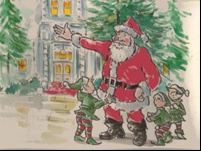 The 9th Annual Mt. Carmel Holiday Home Tour will take place on Saturday, December 11th from 11:00 a.m. – 3:00 p.m.
This year's Tour features the Parish Rectory along with 3 other beautiful area homes. Tickets are $30 each and a box lunch is included. Lunch will be served at the Boutique.
Now you can purchase Holiday Home Tour tickets online.  And, for every ticket you purchase, your name is entered into a raffle drawing to win $300 in Scrip gift cards of your choice.
For questions, please contact:
Jennifer Munsey at jmunsey4@msn.com or Leslie Pedrin at lpedrin@seq.org
Please Note: Strollers are not allowed in the homes.